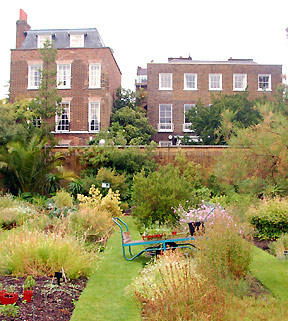 Thanks to my nasty little wasp phobia, it has been many years since I have seen the great outdoors as somewhere to be enjoyed and experienced. It has simply been somewhere to endure until I can get behind a closed window or door once again. My recent foray into hypnotherapy has quite literally opened the world up to me and I am suddenly finding myself able to get at one with nature again.
This week I have visited
Kew Gardens
and the lesser known Chelsea Physic Garden, both easily accessible from central London (I may not fear wasps so much, but this city girl isn't quite ready for the open country just yet.)
Both are a delightful way to spend an afternoon. There is something incredibly relaxing and rejuvunating about being outdoors and experiencing all that nature has to offer. My mum and I spent the day pottering round Kew, basking in the autumn sunshine and in my case, reminding myself how interesting and vital plant life can be.
We spent several hours in the beautiful glasshouses looking at plants from all round the globe. It is a wonderful way to feel as if you have travelled to all far-flung corners of the world in one afternoon, without all that tiresome packing and time in airport lounges. As you stroll round, marvelling at the natural world in all its finery, you half expect to hear David Attenborough commentating on each fascinating plant. It is oddly absorbing even if you could kill mustard and cress at twenty paces with your lack of gardening know-how...
The
Chelsea Physic Garden
was equally as interesting, partly due to the fact it began as an apothecary garden and many of the plants are grown for medical purposes and partly because it is glorious to discover such an oasis of tranquility and greenery in London. The garden is just off the King's Road and has been there since 1673. It is only open for part of the year on certain days of the week which adds to its charm as one of London's hidden gems...(the fact it has a lovely cafe that does exceptional pastries doesn't hurt either!)
Visiting these beautifully tended gardens encouraged me to come home and nuture my own little plot. I have been cultivating a nice collection of hard-to-kill grasses and succulents in pots for a while now on my patio and as they grew, so did my confidence. I felt ready for fruit and veg this summer and was handsomely rewarded with an abundance of runner beans and tomatoes.
Not only has this saved me a fortune on grocery bills, but it has given me a genuine sense of giddy pride in my achievements. I have grown things! Real things you can eat! This has made me ridiculously happy. Not only are my achievements delicious, they have connected me to the outdoors again. At risk of sounding like an earth mother, I'm finding really paying attention to the weather and seasons along with the plants and wildlife perks you up in a way that central heating and carpets can't.

Wasps and weather permitting, I will certainly be spending more time outdoors. I might even have to buy a Thermos at this rate...