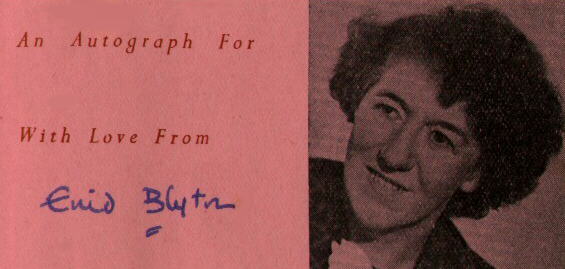 You may have noticed that the name of Enid Blyton seems to be back in fashion somewhat of late with a new Noddy book and a BBC4 drama starring Helena Bonham Carter making an appearance along with countless articles in the broadsheets. With the exception of the
Noddy
book, few of these mentions of Enid Blyton are particularly positive. By all accounts, she was a nasty piece of work...
But to me she is the creator of some of my happiest childhood memories as I was an avid reader of her books. In fact the very first proper book I ever remember reading was her
Tales of Toyland and Other Stories
. It had a lilac hardback cover and set me on a life's love of reading (even if I remember nothing of the actual stories in it!)
Most Saturday mornings, my father would take my brother and me to a local charity bookshop and we would all rummage to our heart's content. I tended to come up with fistfuls of Blyton classics priced around 10p each and would come home with at least 5 pre-loved tales per week. Most of the rest of the weekend was spent curled up somewhere quietly absorbing a world of magical wonderment.
No one could say that Enid Blyton wrote high literature, but she did manage to write gripping books set in a delightfully hypnotic world where children had endless freedom and everything was always spiffing in the end. Growing up in 80s Belfast with its unpredictable political climate and simmering violence made the positively idyllic world of rural England seem utterly beguiling. I was vaguely aware that it was no longer the 1930s and many of the scenarios in her books no longer existed, but that didn't stop my enjoyment throughout the ages.
As a precocious 5 year clutching a compendium of her early tales for children that had belonged to my own mum when she was a child I somehow managed to resist the temptation to be a naughty little shit like
Amelia Jane
or the aptly named
Naughiest Girl in the School
. At 6 or 7 I spent a lot of time suggesting my parents give up their city lives so I could prance about the countryside like one of
The Children of Cherry Tree Farm
since my
Wishing Chair
didn't seem to work. At age 8 with my newly androgynous first name, I desperately wanted to be George from
The Famous Five
(but without the dog...)
I devoured far-fetched tales of groups of children who outwitted the adults to foil smugglers, kidnappers, espionage and corruption. Take a team of sharp witted children, add a dog/parrot/monkey as appropriate, include a slow witted local bobby on the beat and some wily criminals, make sure the children's guardians are conspiciously absent and you're good to go whether it was the
Five Find Outers
outwitting PC Goon, the
Secret Seven
foiling a plot to dye a racehorse in order to kidnap it or the Adventure children saving the
Island of Gloom
from copper thieves.
If I wanted variation from this tried and tested formula, I simply reached for one of her equally famous school stories and lapped up tales of midnight feasts, lacrosse sticks, straw boaters and jolly japes at the expense of Mam'zelle instead. How pedestrian my school seemed in comparison to
Malory Towers
or
St Clare's
without its own swimming pool hewn from rock or stables to board one's horse! I wanted to spend time with the impossibly adult sounding Darrell Rivers and O'Sullivan twins in glorious England where everyone was so proper and polite and rode a bicycle with a basket on the front. It never occurred to me that these were 11 year old girls sent away from home to a freezing stone edifice with only a tin of sardines for excitement...
It also never entered my slightly giddy head that there were other enormous flaws in these seemingly delightful books. Everyone was stunning privileged with the money to travel widely, pay for boarding school and keep large numbers of staff who seemingly raised the children in between baking a nice cherry cake. Poor people were seen as ragamuffins, crooks or gypsies. Children were called Fatty or Snubby after physical characteristics. People with learning disabilities were openly mocked or described as madmen. Americans were brash and loud. The Spanish were flighty and hotheaded. Other foreigners were suspect in myriad ways that were declared in the haughtily imperialist tones of one who approved of the colonies.
I cringe in horror when I think back to how black people were regarded in Enid Blyton's books. Despite growing up in an almost universally white country, I felt uncomfortable without really knowing why when I read about her living black characters. Between Enid Blyton and Robertson's jam I was utterly oblivious to golliwogs being anything other than a type of toy no one seemed to have anymore. I don't think I absorbed any of her bigotry or racism whilst in my liberal middle class 80s upbringing, but I would feel extremely embarrassed allowing a modern child to read such things and see what was once regarded as no big deal...
In fact despite how much I loved Enid Blyton's books, I'm not sure I could go back and re-read them with a more discerning adult eye due to the casual racism, astounding classism and (whisper this) the fairly mediocre calibre of writing. I think I might prefer to simply cast a nostalgic eye back over my own memories (often drunkenly with friends of a similar age and background) and revel in those instead of re-visiting the books themselves. Or I might take the risk and dip into the beautiful hardback copies of the Adventure series that still reside in my mum's house. Pity I'll have to find the secret passage to get at them!